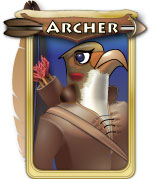 "The Avian are nimble bird-like humanoids with perfect eyesight, quick reflexes, and. The Avian Archer is the master of the bow. A true marksman. 
( Base stats: 2 STRENGTH, 7 DEXTERITY, 1 INTELLIGENCE )"
The Avian or Avian class is a Dex-based class with high speed and damage. The default weapon is a bow.
The Avian is best suited for the damage (archer) role due to its long range magic abilities and high dodge percentage. However it is the hardest class to play
Archers use wepons that require Dex. An Archer's armor is leathers and their shields are the wings. Archers are best if circling enemy and keeping attack on auto.
Community content is available under
CC-BY-SA
unless otherwise noted.