The archer's (or avian's) job is to hit an enemy from a distance while the tank keeps the enemy busy. The favorite skill of the archer is Blast Shot because it can damage many targets at once, and fulfill the job of the archer. If an archer gets in trouble they can use the two scream attacks to knock away the enemies. Archers make good backup if the tank dies as they can still protect the Enchantress who must not die. It is possible for an archer to tank by buying many health potions and continually drinking them while attacking. Archers make squawking noises as they get hit. Archers mainly use Bows, Crossbows, sai daggers, and throwing knives. Archers begin with the following stats: They have the 2nd highest defence in the game.
7 Dexterity
1 Intelligence
Popular Specs

Spec/Function


Guide

Stats: STR/DEX/INT

Skills:

Focus, Blast Shot, Avian Scream, Thorn Root

Meditation, Restore, Evasion, Break Armor

ShattScream,RepulseShot,BlindingShot,ThornWall

Dex bird

2/227/1

5,5,0,5

5,0,5,5

4,5,5,0

Str Bird
?

5,5,5,5

0,0,5,5

5,0,5,0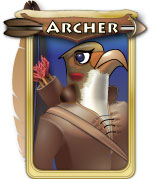 Community content is available under
CC-BY-SA
unless otherwise noted.